MTB & KAYAK - Western Bays Epic Full Day (Kayaking & Mountain Biking Combo)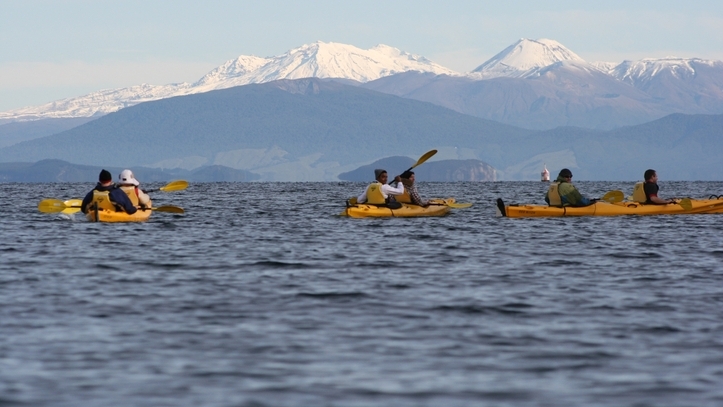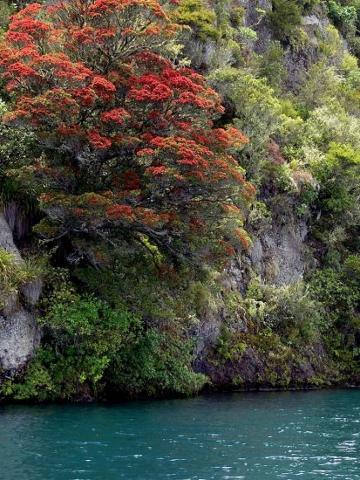 Duration: 12 Hours (approx.)
Location: Taupo
Product code: PTS1ZY
Western Bays Epic Full Day package is without a doubt for the truly adventurous and requires a good level of fitness to enjoy the day to its fullest. And what away to experience the spectacular scenery from the Great New Zealand Cycle Trail (and where else in the world do you get to ride down a waterfall?) and see phenomenal views of the stunning Lake Taupo region by water.
In one day, you will enjoy an amazing 3 - 4 hour mountain-bike ride and a 3.5 to 4 hours kayaking on the crystal clear waters of Lake Taupo.
You will meet us at our base in Acacia Bay, where we will load your bike then set off by road to the Waihaha section of the Great Lake Trail to begin your riding leg of the Waihaha and Waihora sections of the Great Lake Trail down to Kotukutuku Steam.
Trail Blurb: From the Waihaha River
Carpark, you will follow the trail down the river to a swing bridge. After
you've crossed the river you will start climbing gently up onto the cliffs above, following the course of the river to the sign that marks the start of the Waihora trail junction. This trail has breath taking views of the Waihaha River canyon and waterfall (a must see hidden gem of the Western Bays of Great Lake Taupo). It is surrounded by lush native bush including Tanekaha (Celery Pine) which is endemic to this region of the North Island. You will also see large outcrops of ancient volcanic rocks along the trail.
From the midpoint the scenery is amazing, it's not just about taking photos. This is a challenging ride with
many climbs and switch-backs but you will get to ride some of the best flowing downhills you have ever experienced as the trail allows you to free roll around sweeping corners and bends at top speed. Feel the flow! As you descend towards the lake, you will reach a unique engineering feat of bridges, platforms and boardwalks that will take you over the Kotukutuku Waterfall and out onto the beach at the beautiful and peaceful Kotukutuku Landing (a tranquil bay). Where else in the world do you get to ride down a waterfall?!
A fascinating fact is that while this trail was being built, the trail builders found that the rocks closest to the lake were a lot harder to blast than those further up. People say this is because the rocks closer to the lake were heated to a much higher temperature as they were closest to the heat source of the great Oruanui
eruption of 1600AD, causing them to form into harder rocks when they cooled.
At the Kotukutuku Landing (a tranquil bay) you will be met by your Kayak guide who load you bike on boat transporter.
After a gourmet lunch stop in Kotukutuku landing, your guide will equip you, so we can set off on our kayaking journey. You then enjoy a 3.5 to 4 hour paddle via Boat Harbour, across Kawakawa Bay and the spectacular volcanic rock / cliffs emerge from the clear blue/green waters around the point into Whangamata Bay and the lakeside village of Kinloch.


At Kinloch we will enjoy a a well-earned dinner of take-aways from the Kinloch Store (famous for their fantastic burgers), before returning to back to base by road.
This trip will generally only run during summer time (daylights saving in NZ). This trip is able to be sorted by starting you ride at Waihaha road end and missing the first 13km Waihaha section.
Tours include:
Full instruction

Kayak Guides

Mountain bike and helmet hire available

Top quality kayaking equipment

Packed Lunch, snacks, water, tea & coffee refreshments

Dinner provided at Kinloch (Gourmet Burgers)
Transport and Boat transfer to and from tracks - from our base.
Transport: On request only (if you do not have your own transport) - Pick up from /to Taupo CBD. Please call or email to arrange minimum 24 hours before tour commencement.

Times: 7.00am at base, allow 11-12 hours
Please arrive 15 minutes earlier than tour commence time.

Optional extras:


Board a boat, and enjoy a complimentary glass of bubbly or beer while returning to Taupo via the world famous Māori Rock Carvings, or return by float plane, for the more adventurous.

Price on Application
Base – Meeting Point / Starting Location:
Unit 2, 876 Acacia Bay Road, Acacia Bay, Taupo
Gear List:
Please arrive wearing the appropriate clothing and already have sunblock applied, so we can keep to tour time.